Market and Investor update

webinar

Learn about market and investor update by signing up to attend our live webinar on Wednesday, February 1 at 12:00 p.m. CST.

About the webinar
In times of market uncertainty, you may be wondering if you should adjust your investment strategy to achieve your goals. Join us for our investor update to hear Rohit Menon, Senior Manager at NEI, discuss current capital market activity, NEI's economic outlook, and what investors can do to in these volatile times.
This webinar will be hosted in Microsoft Teams. It is free to sign up — be sure to download the program prior to the event.
Registration closes on Tuesday, January 31 at 11:59 p.m.
About the presenter
Rohit Menon, Senior Manager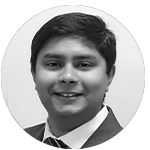 Rohit Menon is a Senior Manager in the Investment team at NEI. He is a member of NEI's Investment Strategy Committee. He is also a CFA and CAIA charterholder. Rohit has eight years of experience in investment research, having worked with CIBC Asset Management and Sarona Asset Management previously. He is responsible for: conducting oversight on NEI's existing sub-advisors, searching to fulfill new mandates, and providing insights into NEI's asset allocation process. Rohit also conducts a comprehensive half-yearly due diligence on the roster of investment managers on the CMA platform.
---
NEI Investments endeavors to ensure that the contents have been compiled or derived from sources that we believe are reliable and contain information and opinions that are accurate and complete. However, NEI Investments makes no representation or warranty, express or implied, in respect thereof, takes no responsibility for any errors and omissions contained herein. The views expressed herein are subject to change without notice as markets change over time.
Any reference to a particular company, security, industry or market sector should not be considered an indication of trading intent of any funds managed by NEI Investments. These views are not to be considered as investment advice nor should they be considered a recommendation to buy or sell. Mutual funds are sold by prospectus only through registered dealers.
Information herein is believed to be reliable but NEI does not warrant its completeness or accuracy. This material is not intended to provide investment, financial, accounting, legal, tax or other professional advice and should not be relied upon or regarded as a substitute for such advice. For complete information about a mutual fund managed by NEI Investments, please refer to the fund's simplified prospectus and/or Fund Facts which can be downloaded at www.neiinvestments.com. Commissions, trailing commissions, management fees and expenses all may be associated with mutual fund investments. Please read the prospectus before investing. Mutual funds are not guaranteed, their values change frequently, and past performance may not be repeated. NEI Investments is a registered trademark of Northwest & Ethical Investments L.P. Northwest & Credential Asset Management Inc. and Ethical Investments Inc., is a wholly-owned subsidiary of Aviso Wealth Inc. ("Aviso"). Aviso is a wholly-owned subsidiary of Aviso Wealth Limited Partnership ("Aviso Wealth LP"), which in turn is owned 50% by Desjardins Financial Holdings Inc. ("Desjardins") and 50% by a limited partnership owned by the five Provincial Credit Union Centrals (the "Centrals") and the CUMIS Group Limited. Mutual funds are offered through Credential Asset Management Inc.
The following entities are subsidiaries of Aviso: Credential Qtrade Securities Inc. (including Credential Securities, Qtrade Direct Investing, Qtrade Advisor, Qtrade Guided Portfolios and Aviso Correspondent Partners), Credential Asset Management Inc., Credential Insurance Services Inc., Credential Financial Strategies Inc., and Northwest & Ethical Investments L.P. Mutual funds are offered through Credential Asset Management Inc. Mutual funds and other securities are offered through Credential Securities, a division of Credential Qtrade Securities Inc. Credential Securities is a registered mark owned by Aviso Wealth Inc.