About SCU
Established in 1941, SCU (Steinbach Credit Union) is one of Manitoba's largest credit unions and among the top 10 in Canada, with over $9.1 billion in assets.
What we do
SCU provides a range of products and services to our personal, business, and agricultural members in our branches, and online. From day-to-day banking to wealth management and lending solutions. Our ongoing investment in technology reflects our commitment to serve the changing needs of our members and the demand for businesses to provide digital solutions across multiple channels.
What's most important for us as an organization is building strong relationships with our members, developing a deep understanding of their needs, and creating tailored solutions to help them live their best financial future. We help our members explore the possibilities of what could be and provide them with the best options to meet their needs on their journey of saving and spending wisely.
Our story — where it all began
Our story began in 1941, when members of the Steinbach and surrounding community were looking for loans to grow their businesses. Unable to access funds, they looked to a successful cooperative model used by prairie wheat farmers to pool their resources to establish the Saskatchewan Wheat Pool. Why couldn't the same idea of pooling their resources for the greater good of the community and its members work to help fund future growth for Steinbach? After all, credit unions were started by people who wanted to help other people have a better quality of life, farm the land, and grow their businesses.
Today, more than 80 years and 106,000 members later, what began as a list of transactions in a 5¢ scribbler found in the drawer of a bookkeeper's desk has grown to become one of the largest credit unions in Manitoba, and among the top 10 in Canada, with over $9.1 billion in assets.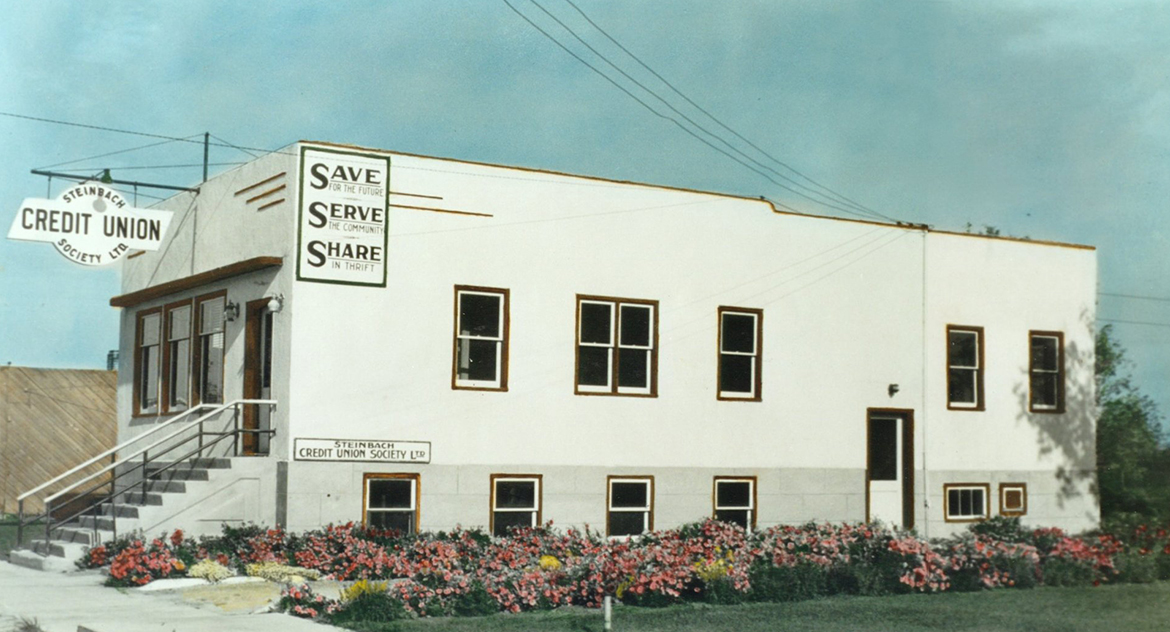 What is a credit union?
Credit unions are full service financial cooperatives offering a wide range of saving, chequing, mortgages, loans, and investments products and services. Traditionally, credit unions are known for more member-centric services, lower account fees, and better interest rates on both deposits and lending.
Being a cooperative, it means that credit unions are owned by their members and governed by a Board of Directors that are voted on by members. Credit unions are staffed by members and all profits are reinvested or returned to its members in the form of lower interest rates, fees, and member bonuses.
When you join a credit union, you pay a nominal member share fee of $5.00, giving you a vote and voice during the Annual General Meeting.


What are the benefits of being a member?
As a member of a credit union, you're an owner, not just a customer. Credit unions are founded on a one member, one vote philosophy, meaning regardless of the balance in your account, each and every member has an equal say in how the credit union operates.
When you bank with a credit union, you are investing in your local economy and contributing to the social and economic fabric of your community.


Member Bonus
At SCU, it pays to be a member
At SCU, we believe that success is better when it's shared. Being an SCU member is about more than just trusting us with your finances — it's about being a part of our success. As a cooperative organization, we believe in sharing a cash back bonus with our members as a way to thank them for their continued trust and loyalty. The bonus is then shared with members who hold deposits (and receive interest) and those who have loans (and pay interest), the division of which is determined based on interest rates during the course of the most recent calendar year.


How SCU protects your privacy
We invest considerable resources to protect member privacy, secure their information, and safeguard them from fraud. We follow the principles outlined in Canada's Personal Information Protection and Electronics Documents Act (PIPEDA) including the security and protection of member information. The security of our members and their personal information is of utmost importance to us. We continually work with banking-industry regulators to refine our security practices and ensure we meet the highest standards. For more information, visit the Security & Privacy section of our website.
SCU Market Code of Conduct
We offer a variety of products and services to help you achieve your financial goals, and believe in practicing this in a fair, transparent, and accessible way. The SCU Market Code of Conduct represents the best practices for soliciting, promoting, advertising, marketing, selling, or distributing our products or services in Manitoba.