Contract-build mortgages
Hiring someone to build your dream home? We have mortgage options designed for new-build projects of all kinds.
Contract-build mortgages are specifically designed for new builds, and they offer plenty of options to help you finance the different stages of the process.

A contract-build mortgage may be right for you if…
You're hiring a contractor to build your home: You might complete some of the work yourself, but you plan to hire contractors to do the bulk of the work for you.
You currently own land: You've already purchased the perfect spot, or you've found a piece of land that would be ideal for your dream home.
You have funds available: You've saved enough or have built equity in your current home to use as a down payment on your new home.
You plan to live in your home: You intend to live in your dream home once you've built it
Benefits of our contract-build mortgage
Enjoy flexible mortgage solutions
Choose between variable and fixed mortgage rates, depending on your financial needs.
Your mortgage, your terms
Make a minimum 20% down payment, with the choice of up to 30 years to repay your mortgage.
Save on interest costs
You have the ability to pay your mortgage off early with our prepayment privileges, which allow you to pay an additional 20% of your original mortgage amount each year.
Protect your cash flow
Enjoy an 18-month interest-only period while you're building your home and paying rent or a mortgage elsewhere. Then, make principal and interest payments on your full mortgage once you move in.
Choose the mortgage solution
that's best for you
Fixed Rate
Offers a guaranteed rate of interest and set payment amounts for a specified period of time.
Features
Take comfort in knowing exactly how much equity you'll build by the end of your term
Available in 3- to 5-year terms for up to 30 years' amortization
Guaranteed rate of interest and set payment amounts throughout the term length
Variable Rate Closed
Offers a set payment amount each month. The amount paid toward principal and interest fluctuates as rates change.
Features
Could be your best bet in a declining interest rate market because you'll build more equity as rates decrease
Available as a 5-year term for up to 30 years' amortization
Prepay up to 20% of the original principal amount yearly with no penalty
Variable Rate Capped
Offers the flexibility of a variable mortgage, but capped at 1% above the current posted rate for a 5-year term.
Features
An option to consider in rising interest markets that offers a protective ceiling, while still giving some of the benefits of a variable mortgage
Available as a 5-year term for up to 30 years' amortization
Prepay up to 20% of the original principal amount yearly with no penalty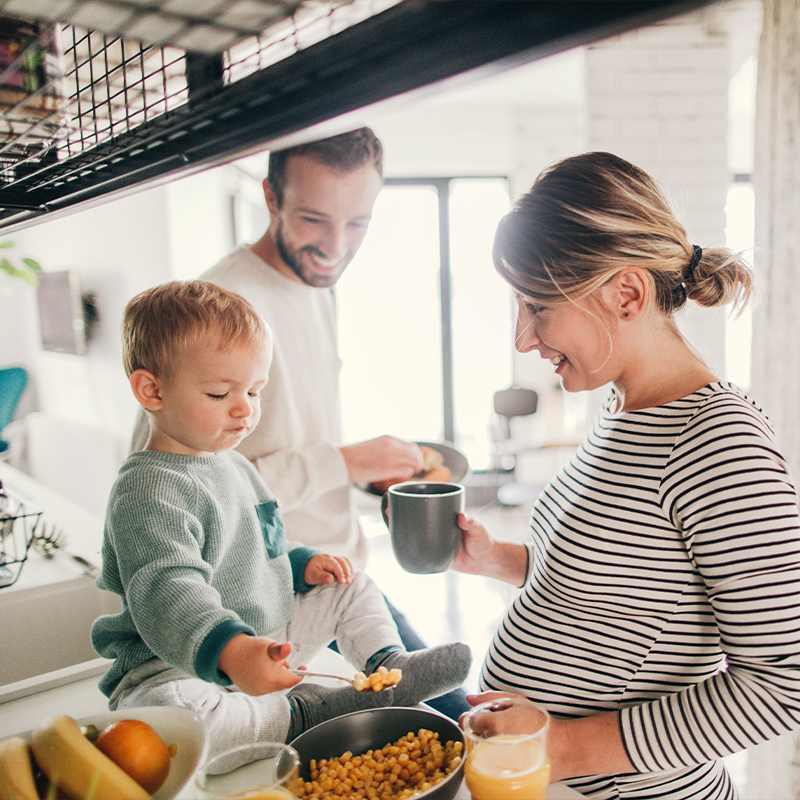 Get preapproved
Your preapproval meeting is a great opportunity to ask us questions and explore your options. We'll work together to help you find the right mortgage solution and prequalify you for a maximum mortgage amount.
Learn more about the preapproval process
Mortgage rates
| | |
| --- | --- |
| Fixed 3-year Mortgage | 6.40% |
| | |
| --- | --- |
| Fixed 4-year Mortgage | 6.40% |
| | |
| --- | --- |
| Fixed 5-year Mortgage | 6.10% |
| | |
| --- | --- |
| Closed Variable (APR†) Mortgage | 6.30% |
| | |
| --- | --- |
| Variable Capped Mortgage | Rates Vary |
†The annual percentage rate (APR) is equivalent to the annual interest rate (AIR), and assumes that no fee(s) apply.
Types of
builder mortgages
The contract build mortgage provides periodic funding as stages of the build become complete. During construction, this is set up as an 18-month interest-only mortgage. Once you take possession, you assume both principal and interest payments on the mortgage.
Ready to Move (RTM) mortgage

Our ready to move mortgages offer solutions for residential builds of mobile and modular homes.

Mobile home: A transportable single or multiple section family dwelling that's ready for occupancy upon completion.
Modular home: A unit that is intended for residential use that has components constructed off-site which are then transported and assembled at the job site.
This mortgage is for homes that are built and funded by the builder until the possession date, when the new home is turned over to someone else.
The assumption mortgage works the same way as the turn-key mortgage, but it requires an initial deposit and is available to certain builders only.